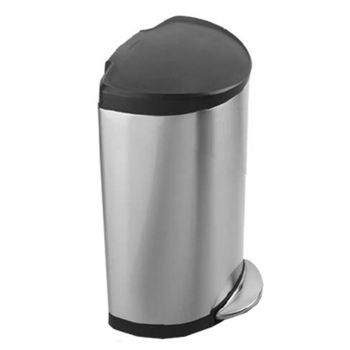 Trash Cans, Waste Bins
Trash Cans in all shapes and sizes, choose from a wide variety of stainless steel cans with different operation styles.
Designed to uncomplicate your day-to-day routine, simplehuman® products are always pushing the envelope in kitchen and bath innovation. From sleek and sanitary trash cans to hassle-free hampers and cabinet organizers, KitchenSource.com features a full-line of simplehuman® offerings for your home. Shop our freestanding, countertop and under-cabinet trash cans, all made from high quality stainless steel, and grab the matching Sure Fit liner to ensure your bag never leaks, bunches or slips. Other cutting-edge designs include towel holders, utensil organizers and dish racks that flawlessly organize your cabinetry and countertop space. Simplehuman® fixtures are available in various of styles of bathroom accessories to accommodate every possible design style to give your bathroom a fresh clean look. Perfect for keeping your bathroom in tip top shape.

About simplehuman®: simplehuman® was founded in 2000 with the purpose of reinventing the trash can, and the ever-popular "butterfly" step can was born. Today, the brand appropriately calls their products tools for efficient living. Over the past decade, simplehuman® has been heralded by industry affiliates (Red Dot Design, ISDA and Housewares Design Awards to name a few) for their innovations in kitchen and bath products. KitchenSource.com is always seeking the most revolutionary products on the market, so it's no wonder simplehuman® is one of our top-selling vendors.