FREE Shipping by Truck with FREE Offload Service!
(To a Residential Address)


These items Ship by Truck and includes FREE Offload Service. For no additional charge your item will be unloaded from the trucking company's truck. These services typically total up to $70+ in additional cost, but we're happy to offer them to you for FREE. Before delivery you will receive a call from the trucking company to make delivery arrangements.

Off load Service (Included)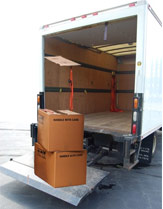 Items weighing over 125 lbs require assistance to unload from the truck. However, we are offering the $70+ service for this assistance completely FREE. This service will relieve the customer of having to assist the trucking company of unloading heavier deliveries if you are unable to provide help.





Inspect Your Item Upon Delivery


Before signing for your item please inspect it for any possible concealed damage that may have occurred before or during shipping. If you are unable to inspect your item, sign as "Un-Inspected." This will help protect you should you need to make any possible claims in the future.